On Saturday, six of us took part in a rowing competition (despite any real experience, minus a short practice on friday). It was put on by Akademiska Hus, the organization which runs the school buildings. Not only was it a fun, beautiful day, but we got tons of freebies for participating - lunch, a really nice dinner, and entrance to the music festival (Sof). As you'll be able to see, we got our faces painted, and watched the most ridiculous parade I've ever seen. Its theme was "Britain," which I found very strange, but it was so fun. About half of the city comes out to watch it, around 70,000-80,000 people.
First, a cool gif of a bunch of us being silly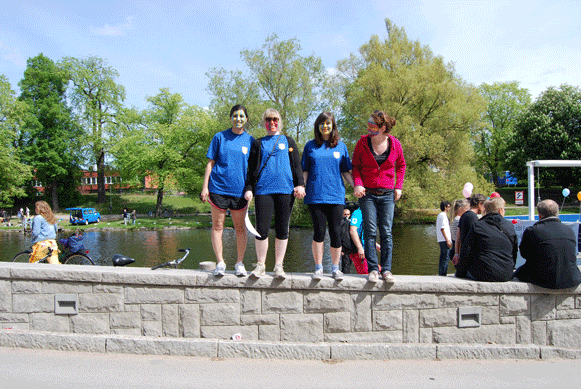 Now I want to show you a couple videos. Here is Farrah, being interviewed by Michele, a girl in our program from the Netherlands. We named our team "Team Awesome."
We had two races. I couldn't make it to the morning race, as I had my written Swedish final, so I participated in the race at noon. Here's a video of that race (we kicked butt!). We're around the bend, but you can see us come into view at around 20 seconds.
Our teammate Erin, from Melbourne, Australia
The girls goofin' around, trying to shove me in the water (photo by Christian)
Team Awesome's second race, I'm third from the left (photo by Jakob)
Farrah getting her face painted in colors of the Swedish flag
Me doing the same thing (photo by Christian)
Michele and I doing some kind of silly dance (photo by Christian)
Michele blowing bubbles that I got in my Easter basket!
Farrah and Christoffer being all cute
The results board
A building downtown that I really love
After lunch, we made our way uphill to score some good seats for the parade (Sadly, Erin and Farrah had to leave us to take a Swedish exam)
Michele with an A on her forehead to represent team Awesome (it later got sunburned into her skin and I couldn't stop laughing about it that night)
A sax player getting interactive with me during the parade (photo by Christoffer)
(photo by Christoffer)
Francois (from France, obviously) and Michele
Molly (from Toronto, Canada) and me...the only ones rockin' facepaint on the parade route